IMMSA Scholarship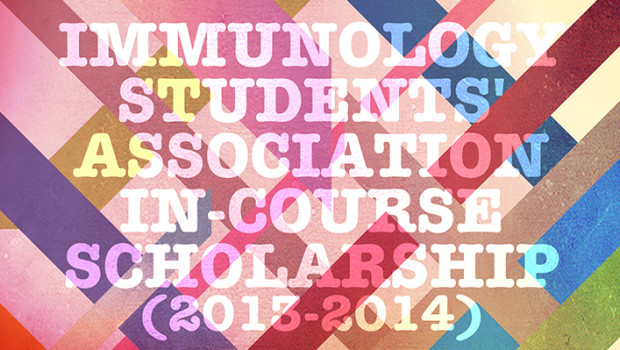 Published on November 29th, 2013 | by Heng Sun
0
Application, Guidelines, & FAQs
Full-time undergraduate students who are enrolled in any Immunology Subject POSts (specialist, major, or minor) are invited to apply for the Immunology Students' Association In-Course Scholarship.
The scholarship program is organized by the Immunology Students' Association (IMMSA) in association with the Department of Immunology, the New College Student Council (NCSC), and the Arts & Science Students Union (ASSU). This award recognizes 5 to 10 top scholars enrolled in an IMM Subject POSt based on the student's year of study and the student's academic excellence from the 2012-2013 academic year. Each winner will be awarded $100 to $200 and officially featured on IMMSA & the Department of Immunology promotional materials (eg. website, IMMpress magazine, and the department newsletter).
Although there is no specific GPA cut-off, we do encourage applicants to maintain a B+ (3.30 – 3.50) average or higher.
The application deadline is 5:00pm on Tuesday, January 21st, 2014. Applications are preferably sent by email to immsa@utoronto.ca or delivered in a sealed envelop to IMMSA's mail slot in the Department of Immunology mail room MS7220.
Please download the application form here: http://goo.gl/4HBaPb
FAQs:
Q: If it's In-Course Scholarship, why do I need to fill the application?
A: Since your transcript is confidential, neither IMMSA nor the Awards Committee (hereon, "the Committee") has access to it without your permission. The application serves two purposes: firstly, it allows you to agree to release the information from your transcript to the Committee, and secondly, it provides IMMSA with a way to contact you.
Q: How does the Committee select winners?
A: The application review process will be based on your cGPA from the 2012-2013 academic year. Different regulations will apply depending on your year of study. For example, for upper year students (defined as third- and fourth-year students), both the cGPA from the previous year and a weighted average from all IMM courses taken to date will be considered. For second year students, only the cGPA from their first year will be considered. 
Q: How many winners are from each year of study?
A: There will be 5 to 10 winners in total. The Committee hopes to select one or two winner from second year, two to four from third year, and two to four from fourth year; however, this may be subjected to change based on the applicant pool from each year.
Q: Who are the Award Committee members?
A: The Award Committee consists of the Undergraduate Coordinator, IMMSA Co-Presidents, select IMMSA Council Executives, and select Department of Immunology alumni. Members of the Award Committee are not eligible to apply for the awards. All information submitted to the Awards Committee shall be considered impartially and confidentially.
Q: When will I know if I receive the award?
A: IMMSA will send emails to all applicants about the decisions and mail the award certificates and cheques by the beginning of March 2014. Winners will receive the certificates and cheques by mid-March. Winners may be asked to attend an awards presentation in late March.
If you have further questions, please feel free to contact us at immsa@utoronto.ca.