2016-2017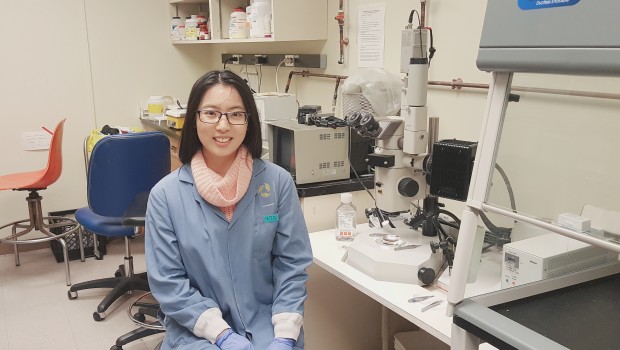 Published on September 13th, 2017 | by Lina Oh
0
Xiaotang Gao, 4th Year Minor.
Xiaotang was a 4th year Immunology Minor student working in Dr. Jenny Jongstra-Bilen and Dr. Myron I. Cybulsky's lab in the 2016-2017 School Year.
Could you give us a quick overview of what your project is about?
We assess the effects of bone marrow transplantation on the initiation and progression of atherosclerosis. For this we used two sets of mice: C57BL/6 → Ldlr-/- (chimeric) and Ldlr-/- (wild type) mice. Mice were fed cholesterol rich diet (CRD) for different durations (5 days-12 weeks). We compared intimal lipid area and myeloid cell accumulation as well as gene expression to assess lesion development in the two groups of mice. To quantify the lesion area, lipid staining with Nile Red was employed. Myeloid cell markers such as CD11c and CD68 were used to determine the composition of the lesion.
What inspired you to get involved with Immunology research?
I always appreciate the scope of immunology research because it covers all aspects of immune systems in all multicellular organisms and I would love to get involved. During my third year, I took advanced immunology (IMM341, IMM351) and I met Dr. Michael Julius and he was always passionate about his research and he made immunology extremely interesting, more than simply memorizing who does what. Inspired by his enthusiasm, determination and meticulousness and I would like to see and experience the world he has been speaking highly of.
What do you find most interesting about your project?
Nothing can compete with mouse work! It is my first time working on animal models. I was so excited when I saw BALB/c and C57BL/6, whom I learned from lectures in real life. Although it took time and effort to be confident and precise while handling them for experiments, it was a great and fun opportunity to acquire such invaluable skills that can be transferred to any other field of research.
What do you hope to gain from undergraduate research?
I would like to prepare myself for graduate research and that is why I participated in the project course to gain hands-on experience in laboratory settings. Besides the technical skills I learned in the project, I also experienced the life of a graduate researcher where I would be reading tons of paper, discussing results to colleagues, and presenting my finding in our journal club meetings. Moreover, I enjoyed the process of scientific writing and I would like to thank my supervisors, Drs. Jenny Jongstra-Bilen and Myron I. Cybulsky for their guidance and patience over the course of my report writing.
How has your research experience influenced your future plans?
I always want to go to graduate school to conduct cutting-edge research and one day become a Principle Investigator to bring more innovative and diligent scientists to the field. This invaluable experience trained me and opened doors to me and most importantly, confirmed solidly that this is the life I would genuinely like to live for. Therefore, I would like to see myself thriving upon that.
Are you involved in other activities outside of the lab?
Yes! I love reading books and watching news documentaries. In my spare time, I love to discuss what I saw in the news to my colleagues and friends. It feels very excited and involved to ask hard-hitting questions to each other regarding the big issues currently. I also learned a lot from the responses (or sometimes may be hit-backs) because my friends are able to recall history to explain the reasons and I genuinely admire people who can naturally start analyzing once given a time period in the past.
Do you have any advice for students looking to get involved in research?
First you need to find the area that excites you and then you go to the laboratory pages in that area to pick a few you want to work in. Then you write customized cover letters or emails to each Principle Investigator. It will be great if you can comment on some of their published paper, but it is also okay if you don't. It is understandable that you are new to the field and you don't know the detail of their research, but you need to get a firm grip on the general ideas.