2016-2017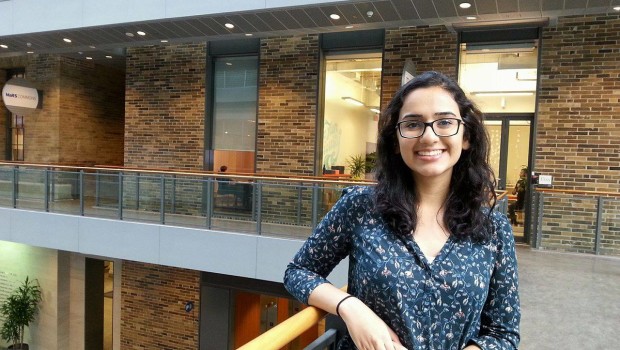 Published on November 6th, 2016 | by Sonya Kim
0
Wazaira Khan, 3rd Year Major
Wazaira is a 3rd year Immunology Major student currently working in Dr. Jennifer Chan 's Lab in the University of Calgary.
Could you give us a quick overview of what your project is about?
My most recent project involved investigating the expression of various tumor infiltrating lymphocytes in a subset of gliomas (malignant brain tumors of glial cell origin) that are hypermutated and resistant to current forms of therapy. We hope to eventually test the efficacy of immune checkpoint inhibitors in these brain tumors.
What inspired you to get involved with Immunology research?
I like how immunology research encompasses a broad spectrum of fields ranging from infectious disease and autoimmunity to transplantation immunology and gut microbiology. I was also intrigued by how diverse and well-adapted the immune system is, and thus decided to spend my time as an undergrad learning all about how it keeps us alive. ☺
What do you find most interesting about your project?
I found it thrilling that my project was one of the first to focus on the immunological aspect of hypermutator brain tumors. I also found it very rewarding that my project can aid in the future screening of immunotherapies to target brain cancer.
What do you hope to gain from undergraduate research?
So far, undergraduate research has lent me a newfound appreciation for all the effort that goes into the design, implementation and publication of a project. Through undergraduate research, I have likewise gotten the opportunity to apply knowledge gained in class in a laboratory setting.
How has your research experience influenced your future plans?
Through my research experience, I have come to realize that I am passionate about the field of cancer immunology. It has also allowed me to potentially consider a career in research as I have found it to be a very rewarding experience.
Are you involved in other activities outside of the lab?
I am on the executive committee for the Neuroscience Association for Undergraduate Students (NAUS) and the Interneuron. I am also a high school mentor, an e-tutor for children in Pakistan, and a volunteer at Princess Margaret Hospital.
Do you have any advice for students looking to get involved in research?
ROP299 is a great way to get involved in research. Also, don't be shy to email professors whose research you are truly passionate about. Make yourself stand out by showing them how interested you are! They are very accommodating and can connect you to various opportunities or take you in their own lab. ☺