2016-2017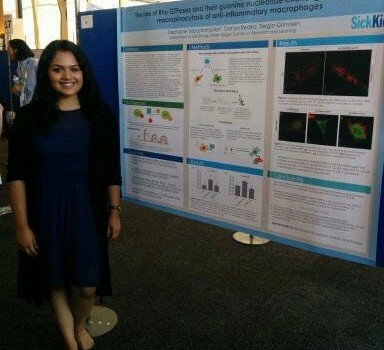 Published on November 6th, 2016 | by Sonya Kim
0
Stephanie Sebastiampillai, 4th Year Minor
Stephanie is a 4th year Immunology Minor student currently working in Dr. Sergio Grinstein's Lab.
Could you give us a quick overview of what your project is about?
I studied the role that RhoGTPases and their guanine nucleotide exchange factors (GEFs) played in macropinocytosis of human anti-inflammatory macrophages and dendritic cells. Macropinocytosis is a non-selective, actin-dependent internalization of a large volume of extracellular fluid. The eventual goal of the project was to screen for the expression of 76 RhoGEFs that localized to macropinosomes.
What inspired you to get involved with Immunology research?
I became interested in learning more about the immune system after taking IMM250 in my second year, which prompted me to later take IMM340 and IMM350 in my third year. I was extremely enthusiastic and keen to learn more about the information presented in class on immune cells, responses and systems. I wanted to do research related to immunology to get a flavor for the way that the immune system could be applied to the real world. The professors in these courses were also passionate about immunology and really encouraged students to seek out research opportunities in the field.
What do you find most interesting about your project?
I definitely found the separation of monocytes from human blood extremely interesting and fun! In lectures, we tend to see depictions of these cells that are quite simplistic, however, growing these cells on my own I was able to see their complicated morphologies. Aside from the actual experimental techniques, the processes that I studied are found in cells that function in our bodies every day to fight infections and keep us alive, which is pretty cool and extremely relevant!
What do you hope to gain from undergraduate research?
I hope to gain knowledge on how research is conducted in immunology and in all scientific fields for that matter. I want to be able to make connections between what I am learning in school to why we want to learn these things. I think making connections is something really valuable that you can only get by doing undergraduate research.
How has your research experience influenced your future plans?
I am definitely considering applying to graduate schools this year to continue doing research on topics that I am passionate about, which include immunology. It is amazing how much my undergraduate research experience has shown me how passionate I am about doing research.
Are you involved in other activities outside of the lab?
When I worked in the lab over the summer, we had the opportunity to participate in various events offered by SickKids and I attended many of these events. Other than that I am full-time student committed to my academics (sounds boring). I also love reading in my free time, volunteering, and probably watching The Walking Dead.
Do you have any advice for students looking to get involved in research?
My advice would be to do research in something you are passionate about! Seek out the professors whose labs you'd be interested in working in by sending them emails or meeting with them and showing them your enthusiasm. Professors usually want to take undergraduate students who would be interested in what they are studying. For students who are hesitant to apply for a position, you have nothing to lose just apply!!