2016-2017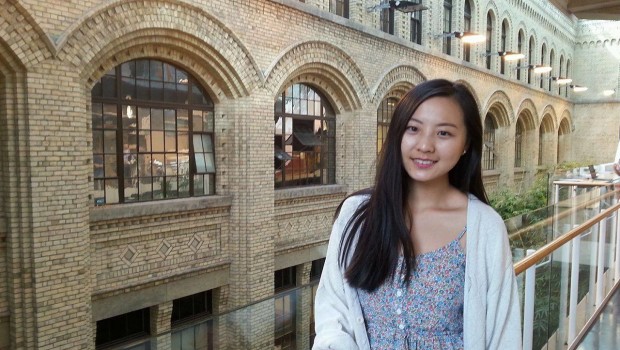 Published on September 29th, 2016 | by Sonya Kim
0
Lucy Shao, 3rd Year Major
Lucy is a 3rd year Immunology Major student currently working in Dr. Michele Anderson's Lab.
Could you give us a quick overview of what your project is about?
My field of research is developmental immunology. My last project was doing qPCRs of various mRNAs, such as NOTCH1, GAPDH, Hes1, Myc and ETS1 in HEBAlt (a transcriptional factor that helps mediate T-cell identity) knockout and wild type mice.
What inspired you to get involved with Immunology research?
My brother was an immunology specialist at University of Toronto 10 years ago. I always thought what he did was fascinating, and as a result, I became interested in exploring what immunology is like for myself! So far I feel like I have the right choice. The flexibility and diversity of the immune system is so intriguing (insert nerdy iPhone emoticon).
What do you find most interesting about your project?
I'm currently not working on a project during the school year!
What do you hope to gain from undergraduate research?
I think the bulk of the value of undergraduate research comes from the experience of working in a lab and becoming familiar with what doing research "really" is like. Many of the times, people have these imaginations about what it is like to be a researcher – mostly consisting of Eureka moments. However, you deal with a lot of failures. You get to see if research is something you want to pursue even after undergrad.
How has your research experience influenced your future plans?
As mentioned earlier, it has given me insight about what it is like to work as a researcher. It has helped me build myself up.
Are you involved in other activities outside of the lab?
Other than the lab, I am also the Senior Events Coordinator on IMMSA. I enjoy dance as well, and am an executive for a dance club that provides lessons for U of T students called Urban Dance Revolution and a member of the dance crew, The Crew. I will also be shadowing a doctor in the ER, and I am looking forward to getting involved with law-related activities.
Do you have any advice for students looking to get involved in research?
I know it is difficult to get started on research, especially if you're a first year or second year student. The key is to stay motivated and keep trying – even after all of those emails where none of the professors actually reply. Personalize your emails. Professors can tell whether or not it's a copy and paste!