2015-2016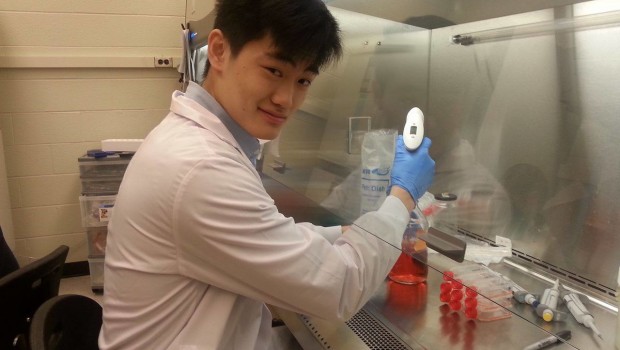 Published on February 25th, 2016 | by Sonya Kim
0
Tao Chan
Could you give us a quick overview of what your project is about?
My lab works with Natural Killer T cells (NKT), which are a subset of T cells that have some expression of Natural Killer cell markers and characteristics. Specifically, we work with Type I NKT cells (invariant NKT cells) and we identify their functions and interactions within biological systems. However, my project deals with a rarer subset of NKT cells — Type II NKT cells, which recognize a different subset of glycolipids and have a different effector function. Currently in the NKT field, there are tools to study Type I, but not Type II, so my current project is to develop tools to identify and stain for these rare NKT cells.
What's your favourite thing about your project?
My favourite thing about my project is that I get to do a lot of experimental design to test my tools and hypotheses.
How has your research experience influenced your future plans?
Having had an opportunity to work in a lab has opened my eyes to future opportunities in life science careers. Research is an amazing opportunity to get a glimpse into how the field is run and what to expect should you follow a career in research.
Are you involved in other activities outside the lab?
I'm a chemistry tutor for Victoria college teaching first year chemistry.
What advice would you have for other students looking to get involved in research?
My advice to students looking for research is that you have to make a memorable impression; maybe make a personal statement telling the PI how you're different from all the other research candidates, or say something unique about yourself!