2015-2016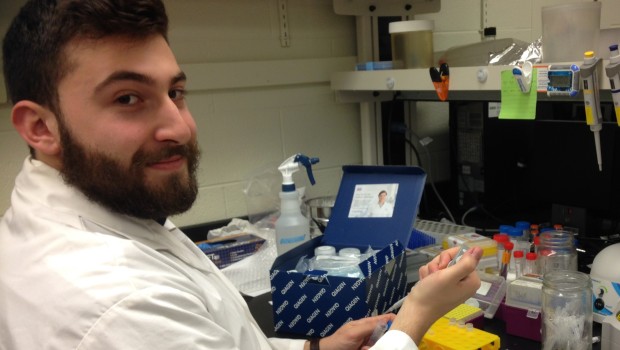 Published on January 25th, 2016 | by Sonya Kim
0
Furkan Guvenc
Could you give us a quick overview of what your project is about?
I am currently working on a project (as part of IMM450) that involves the use of recombinase mediated rearrangement of an antigen specific T cell receptor for the production of a stable animal model that produces the T cell subset invariant natural killer T cell (iNKT) through retroviral vector introduction hematopoietic stem cells then providing these cells to a suitable donor mouse. Through this introduction, the stable production of iNKT cells within the mouse is expected. This project will aim to replace the conventional transgenic mouse models that rely on embryonic gene modifications to give rise to antigen specific T cells in abundance, but are costly to generate and maintain. With the success of this project, antigen-specific T cell models could be generated easily and the biology of the cells maintained as the introduced receptors are undergoing recombination based on normal T cell developmental schedules thanks to CD4 targeted recombinase induction.
What's your favourite thing about your project?

It is really rewarding being able to incorporate the theoretical aspect of my education in my bench work and see the theory taught in lectures play out in the lab. I am able to experience the biology first hand, which further increased my fascination with science of the immune system and all its aspects. Not only that, I am attempting my own novel research and the information gathered from those experiments are my own. Fact that I have found information that no one has found before is really rewarding.

How has your research experience influenced your future plans?


It is a considerable influence in my everyday work from lab to the lectures. There is still so much to learn and I am excited to be able to continue doing so for the rest of my career.
Do you have other research experiences as well?
I was able to contribute in research projects as a summer student back in my home country (Turkey). I was first exposed to the clinical aspect of immunology thanks to shadowing physicians in the infectious diseases clinic in Uludag University and I was part of clinical research performed by physicians in the Faculty of Medicine. This experience first begun my true appreciation for immunology and this experience is the driving force for me to continue with a research stream in mind.
Are you involved in other activities outside the lab?
I try to stay active as much as I can by hitting the gym, but this sometimes presents an issue since fourth year as a specialist can be overwhelming. I spend time with my friends as much as I can in order to vent and refresh myself. If we cannot find the time to hangout outside of school, we make sure that we keep in touch and hangout by studying together.
What advice would you have for other students looking to get involved in research?

Always show your enthusiasm for science and the projects that are held by the professors that you're interested in working for. Make sure that you know what they are doing and show them that if they take you on in their lab, that you show the same enthusiasm as they do about their projects. Try to talk to them outside of class and show that you are a better choice than the other guy since you want to do research not because you have to, but because you want to.
How did you get your current research position?
For the diagnosis of immunological diseases. During one of my lectures in IMM341, I was able to discuss in detail about the uses and the theory of flow cytometry with one of my lecturers (Dr. Mallevaey). Thanks to this discussion, I was able to approach him outside of class and asked whether or not I could be a volunteer research student in his lab. Ever since then, I was able to work on my own research projects in his laboratory and learn all of the aspects of laboratory work; from the theory to the practice. He was generous enough to provide me with all of the training and information that will be very useful to me for my work going forwards.