2015-2016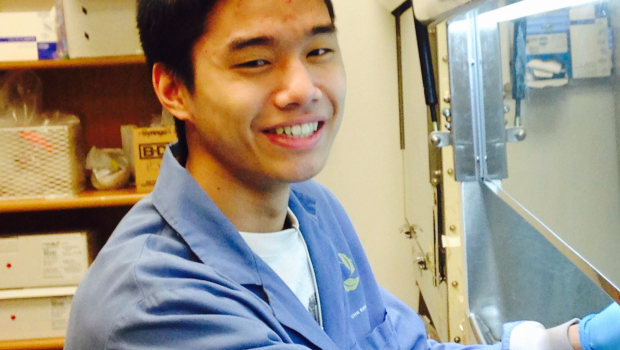 Published on January 25th, 2016 | by Sonya Kim
0
Conan Chua
Could you give us a quick overview of what your project is about?
FGL2 is the main effector molecule of regulatory T cells which are responsible for dampening the immune system. My project entails the use of the immunosuppressive molecule FGL2 in the context of autoimmunity in EAE mouse models. We hope to study this molecule and its possible effects as a potential therapeutic drug for human demyelinating diseases such as multiple sclerosis
What's your favourite thing about your project?
Asides from learning several other techniques, handling mice is one of the best perks of my project! My previous research project involved E. coli cultures and to be quite frank, they're less entertaining and they don't scurry around like mice do.
How has your research experience influenced your future plans?
Being capable of handling mice has certainly broadened my research opportunities. By having been trained with these techniques and exposed to this laboratory environment, several facets of immunology are easier for me to grasp. The research experience I have attained thus far has definitely given me a new perspective on potential career opportunities within the scope of academia.
Do you have other research experiences as well?
I previously did an ROP299Y1 program with the Department of Biochemistry at University of Toronto under the supervision of Dr. John Glover. My project back then involved the study of Heat-Shock Protein 104 and its role in propagating prion protein sup35 in Saccharomyces cerevisiae.
Are you involved in other activities outside the lab?
I currently volunteer in several settings, including peer mentorship programs, youth mentorship programs and lastly in Toronto General Hospital. In my spare time, I pennyboard aimlessly around campus (some of you already know this) or do a few swimming practices to keep fit. One of my main outlets is definitely baking.
What advice would you have for other students looking to get involved in research?
Start sending e-mails to professors as soon as you can. Several professors are extremely keen on finding enthusiastic students rather than uninterested students with a perfect cGPA (although that wouldn't hurt either!). Contact professors with a tailored message rather than a generic one; show that you are genuinely interested in their research rather than mindlessly sending out e-mails with no regards to the scope of their research. Also, networking is key; learn to associate yourself with the right kind of people to attain your future goals!