2015-2016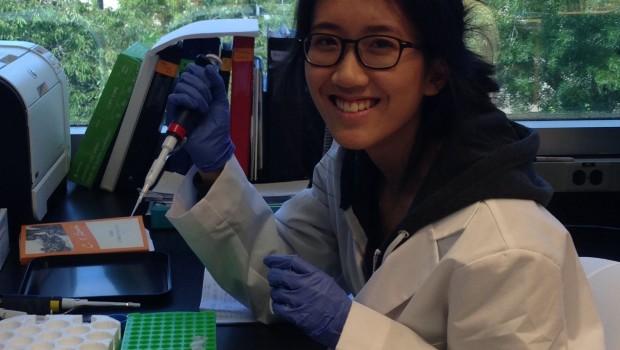 Published on January 25th, 2016 | by Sonya Kim
0
Kathy Chan
Could you give us a quick overview of what your project is about?
During pregnancy, obese women are three times more likely to develop major complications. Obesity is linked to a higher risk of preterm birth, which is responsible for ~75% of the 4 million neonatal deaths annually worldwide. The increased risk in developing these conditions may be related to obesity-linked changes in immune cells. Immune cell factors directly affect embryo implantation and establishment of the maternal-fetal-interface. However, the mechanism(s) through which obesity-linked inflammation affects pregnancy outcomes are currently unknown. Uterine natural killer (NK) cells comprise 70% of leukocytes within the pregnant uterus. Unlike conventional splenic NKs, uterine NKs are not cytotoxic, but instead produce pro-angiogenic factors, proteases and cytokines important in arterial remodeling. Recently, our lab has shown maternal obesity results in decrease proportions of uterine NKs. My work in the lab aims to confirm if maternal obesity leads to absolute decreases in uterine NKs and sets out to examine how spatial localization of NKs is affected.
What's your favourite thing about your project?
My favorite thing about my project was the intimate relationship it had with health. The same day we received decidua tissue, we processed it into single cells. Often when you're isolated and immersed in a lab environment, real life can seem distant. However the speed in which everything happened and being able to go collect the tissue and then see it under a microscope made me realize how interconnected lab work was to the medical field and health.
How has your research experience influenced your future plans?
It made me understand the importance and necessity of research. I would definitely try more research positions, maybe not for my career but as summer projects.
Do you have other research experiences as well?
No
Are you involved in other activities outside the lab?
Throughout the school year I'm involved with Intervaristy Christian Fellowship as an exec leader. I am a Human biology student union peer mentor, I volunteer with Out of the Cold soup kitchen and I'm a member of the Mercy Ships Club.
What advice would you have for other students looking to get involved in research?
Even if you don't think you'll like research, try it out! I didn't think research would suit me, but I enjoyed it far more than I thought I would. The people in my lab were the most encouraging and kind people, it was more than anything I could ever ask for in a work environment. They built up my confidence as a student researcher. Moreover, the exposure to "real life science" was exciting, being in a lab is everything you learned about in class put to life. Also, being immersed in a community of like-minded individuals was intriguing and eye opening. It really reaffirmed my love for science and makes listening and learning through some dry university lectures worth it.
I started emailing researchers who were researching topics I was interested in and I hoped that one of them would reply to me. I luckily got an interview and then got the position.