2014-2015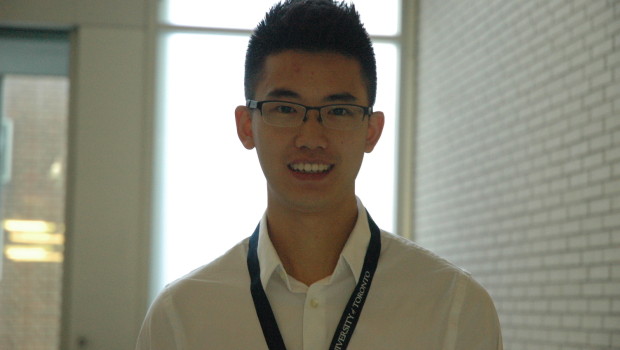 Published on May 25th, 2015 | by Sonya Kim
0
Benjamin Li
Ben is a McMaster University student iwho presented his work at OQUIC this year.
How did you get your current research position?
I was awarded a high school research scholarship by Hamilton Health Sciences, which gave me the opportunity to work at the McMaster Immunology Research Centre under the supervision of Dr. Jonathan Bramson in the summer before my first year of university. I continued working in the same lab throughout my undergraduate career. Twelve scholarships are awarded each year and they provide students with an excellent opportunity to get involved in research early on. More information can be found here: http://www.hhsresearchadmin.ca/2015/01/high-school-health-research-bursary-awards-2015-competition/
Could you give us a quick overview of what your project is about?
As a cancer immunotherapy lab, we are trying to find innovative ways to stimulate the immune system to fight cancer. I am currently working on a project to develop a novel engineered T cell receptor for the treatment of metastatic breast cancer. Through genetic engineering, we created a chimeric receptor that couples T cells to tumour-associated proteins, ultimately improving T cell cytotoxicity against breast tumours. As this is a completely novel receptor, we are performing a variety of structural, functional, and mutational analyses to optimize the ability of these engineered T cells to recognize and eliminate cancer cells.
What's your favourite thing about your project?
The most fascinating thing about my project is the fact that I am developing something completely novel to treat a highly prevalent disease. To be able to do something that nobody else in the world has done before is truly mind-boggling. Cancer research is advancing like never before, and being able to contribute even a little bit to the field is highly rewarding.
How has your research experience influenced your future plans?
This experience has opened my eyes to the importance of scientific research in improving health outcomes for our current and future generations. It is through scientific research that we are able to better understand the diseases that plague us and find innovative ways to treat them. I see myself pursuing scientific research in the future to improve the health of populations around the world.
Do you have other research experiences as well?
This was my first research experience.
Are you involved in other activities outside the lab?
I am highly interested in global health, and I am part of various student groups at McMaster University aimed at educating the student population about global inequalities in access to health care and ways that we can address this problem.
What advice would you have for other students looking to get involved in research?
Show your enthusiasm for scientific research! Most PIs understand that the majority of undergraduate students do not have prior research experience and are looking for students who demonstrate passion for research. Read up on the field of research that interests you the most and figure out why it is so fascinating to you!