2014-2015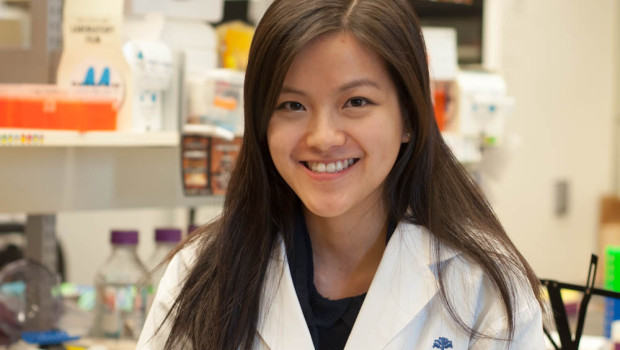 Published on April 24th, 2015 | by Sonya Kim
0
Diane Nhieu, 4th Year Major
Diane is a 4th year Immunology Major student currently working in the lab of Dr. Goetz Ehrhardt.
How did you get your current research position?
I emailed my current PI, got an interview and here I am. (Sounds cliche I know ;))
Could you give us a quick overview of what your project is about?
We are using VLRs to identify biomarkers for memory B cells. We are also exploring the application of VLRs as a research reagent to add to the bank of already existing human monoclonal antibodies.
What's your favourite thing about your project?
THE PEOPLE! My mentors and lab mates are awesome to work with! Also, I get to learn about something new all the time.
How has your research experience influenced your future plans?
Research projects have made me interested in applying what I've learned from immunology towards public health. I will be attending the Master's of Management of Innovation from UofT, hopefully concentrating in health systems.
Do you have other research experience as well?
I worked on a project at the University of Ottawa, Heart Institute for Dr. Michael Gollob, as my first research experience in second year. It involved sequencing a calcium channel in Cardiac Arrhythmia patients and comparing that with control patients.
Are you involved in other activities outside the lab?
I am currently the Deputy Returning Officer for New College Student Council, my role consists of running the Fall and Spring Elections. I am also in Dr. Ashley Bruce's lab for work study. My job there is to feed her Zebra fish and keep them happy. On my spare time I love DIY projects and photography.
Do you have any advice for students looking for research positions?
My advice is to not be afraid of approaching professors, they are usually pretty friendly and even if they can't take on students you always ask them to refer you to someone who is looking for students. When you first start out you might have to send many emails to get that first project, but don't get bogged down by that! Once you get that first project, the others will be easier to get into.