2014-2015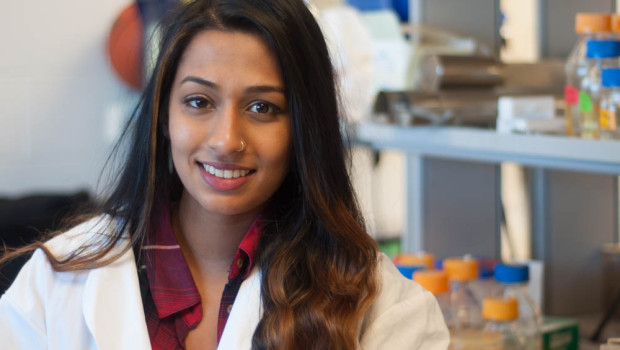 Published on April 24th, 2015 | by Sonya Kim
0
Anuisa Ranjan, 4th Year Major
Anuisa is a 4th year Immunology Specialist student currently working in the lab of Dr. James Carlyle.
How did you get your current research position?
I am currently completing the IMM450 full year research course in the Carlyle lab at Sunnybrook Research Institute. I first entered the lab as a third year summer student through the Immunology Summer Student Program, and continued working at the lab into my fourth year.
Could you give us a quick overview of what your project is about?
I am currently working on characterizing two subpopulations of human NK cells by measuring the level of expression of various genes through RT-PCR. Through analysis of microarray data and comparison with the existing literature we would like to infer further functionality of these NK cell subsets.
What's your favourite thing about your project?
The most rewarding part of my project has been learning from the team at the Carlyle lab. The past year in this lab has given me a wealth of knowledge and skill beyond my expectations, and has given me a solid foundation to continue to build my research skills. My mentor, Dr. David Allan, along with the rest of the team, have been a great source of support and encouragement and have really helped build my confidence as a student researcher. Not to mention, they are an incredibly welcoming and fun group of people to work with!
How has your research experience influenced your future plans?
My experience has given me a good understanding of the scientific research process. From asking the initial research question, to experimenting and drawing conclusions from results, then starting that whole process over again; I see research as an exciting, dynamic field of science. Thus, I would like to continue to conduct research, while also looking for methods to bridge the gap between knowledge and practice through knowledge translation. In particular, I would like to apply what I have learned in immunology through a public health perspective to address the effects of infection and disease on human populations.
Do you have other research experiences as well?
Before my research in immunology, I completed several quality improvement projects for the Endocrinology department at Sunnybrook Health Sciences Centre. These research projects focused more on the clinical aspects of health research and allowed me to explore aspects of healthcare such as trends in patient retention, analysis of disease markers, and efficacy of clinical interventions.
Are you involved in other activities outside the lab?
Outside of the lab, I play intramural volleyball for Victoria College and the Tamil Students' Association. Through my interest in global health, I was also the NGO Fair coordinator for the University of Toronto 2015 Health and Human Rights Conference. I also volunteer at Caffiends cafe at Victoria College.
Do you have any advice for students looking for research positions?
Be proactive and don't be intimidated! Starting out, it is important to look up and pursue research activities related to your interests so you can truly test and explore your fit in that field. Everyone has to start somewhere, so don't be afraid to email researchers, contact your professors, and apply to various research programs… we all get our lucky break somewhere!