2014-2015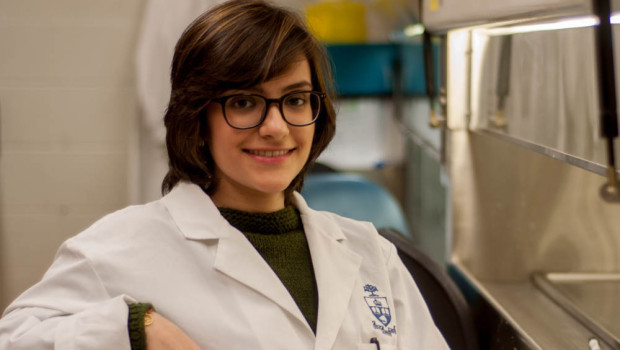 Published on April 24th, 2015 | by Sonya Kim
0
Najmeh Edraki, 4th Year Major
Najmeh is a 4th year Immunology Major student currently working in the lab of Dr. Mario Ostrowski.
How did you get your current research position?
Last year I applied for a summer research program and approached 3 different PIs and had interviews with them. I found Dr. Ostrowski's project topics closer to my interest. So I asked if I could work with him and he accepted me into his lab. I continued working in his lab for my forth year project in IMM450Y and here I am today.
Could you give us a quick overview of what your project is about?
My aim is to characterize the interaction of CEACAM1 and Tim-3 in HIV infection and its role in T-cell exhaustion and HIV pathogenesis. Recently it has been shown that in murine cancer models, interaction with CEACAM1 is necessary for Tim-3 co-inhibitory function and induction of T-cell exhaustion. Given that the blockade of this interaction can recover the functionality of T-cells we are interested to see if the same scenario is happening in HIV infection.
What's your favourite thing about your project?
Well, my project is on a whole new topic and very little is known about it, so I have to be really creative to set up the experiments that will end in helpful results and do all types of optimization for every single step of my protocols by myself. I like all these because it gives me a real view of how a researcher deal with a project; days and days and days of trouble and finally a day of reasonable results!
How has your research experience influenced your future plans?
Last year I was struggling to decide what I really want to do and I was thinking days and nights about what will make me really happy. This year I'm aware of my capabilities and how far I can push myself to reach my goal and I'm going to start my graduate studies this September cause I think I've found what makes me feel satisfied.
Do you have other research experiences as well?
Dr. Ostrowski's lab was the first place that I started working in research area, but what I've learned in this lab from day one up until now has been as valuable to me as working in several places since I have learned so many valuable skills and techniques.
Are you involved in other activities outside the lab?
I really enjoy music and I play Piano. I love volleyball and I play with my friends every week at Hart house. I follow European soccer and am a stalwart fan of Barcelona team! I'm also a member in two different Persian community clubs.
Do you have any advice for students looking for research positions?
When I applied for the summer research position I didn't have hopes that I could make it cause I didn't have any research experiences before that. But then surprisingly I was accepted and I could go to different labs and talk about the projects and see what kind of work I like to do in that summer. All I'm saying is that there is an open door out there to a whole new world where you can seek for your interests and abilities so don't miss the opportunity by underestimating yourself!