2014-2015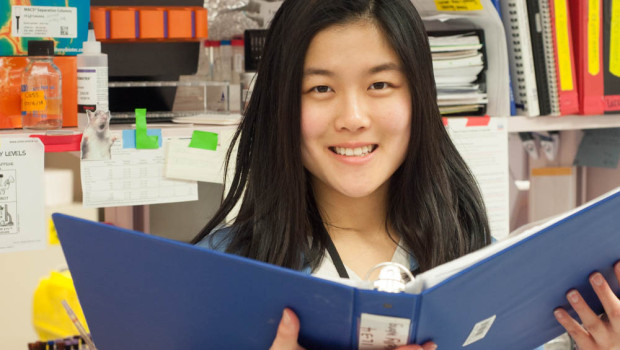 Published on February 24th, 2015 | by Sonya Kim
0
Kelly Wong, 4th Year Specialist
Kelly is a 4th year Immunology Specialist student currently working in the lab of Dr. Eleanor Fish.
How did you get your current research position?
I approached my current PI Dr. Eleanor Fish during my third year Introduction to Immunology course. She had ended a lecture with current knowledge on Rheumatoid Arthritis which I expressed interest in. After exchanging contact I was offered a position in the following academic year after completing the Immunology Summer Student Research Program in another lab.
Could you give us a quick overview of what your project is about?
We are trying to understand the pathology of Rheumatoid Arthritis (RA) by tracing circulating cells that exhibit both mesenchymal and haematopoietic stem cell properties. I am using cell-based approaches to understand how these cells become pathologic. I am currently investigating the proliferative abilities of a candidate cytokine that has been shown to be elevated in the joints of RA patients.
What's your favourite thing about your project?
I enjoy being part of a project with potential clinical applications. So far the mechanism causing RA is unknown; by contributing to research that attempts to find the causation we may be closer to a cure for RA.
How has your research experience influenced your future plans?
The projects I've taken on have reinforced my interest in a career involving research. I am currently applying to do graduate studies in Immunology.
Do you have other research experiences as well?
I volunteered in Dr. Martin's lab shadowing graduate student working on a colorectal cancer project. I did my Immunology Summer Student Research program at Dr. Juan Carlos Zúñiga-Pflücker's lab attempting to evaluate the anti-cancer efficacy of mouse bone marrow derived Cytotoxic T cells.
Are you involved in other activities outside the lab?
I help IMMSA with events planning as the junior events coordinator.
Do you have any advice for students looking for research positions?
Try to actively seek out research that interests you and find a PI that does research in the same field. If you aren't sure of the research you want to do-don't fret! Use the lectures you attend as a basis to finding what area you would like to conduct research or try volunteering in a PIs lab. Go to events where you have the chance to mingle with PIs, this may increase your opportunity to get into a lab.