2014-2015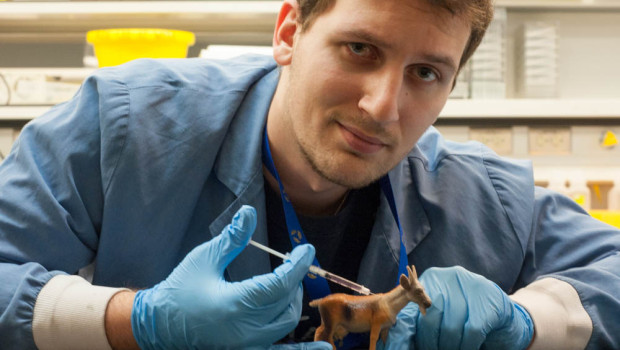 Published on February 24th, 2015 | by Sonya Kim
0
Alexey Gurevich, 4th Year Specialist
Alexey is a 4th year Immunology Specialist student currently working in the lab of Dr. Pamela Ohashi.
How did you get your current research position?
In the spring of 2014 I applied for the ISSRP program, hosted by the Immunology department. After a great summer I was able to stay for the school year and decided to make good use of the opportunity.
Could you give us a quick overview of what your project is about?
The immune system is a very complex network of back and forth connection. I am studying how some of these connections affect each other as well as the potential future consequences. The main goal would be using what we have learned to improve cancer immunotherapies.
What's your favourite thing about your project?
My favourite thing about the project is the potential implications. It would be awesome if we could use our immune system to battle cancer in a natural way. Another great part of the project is working with the awesome people in the lab.
How has your research experience influenced your future plans?
In May I am going to start working in a Master's program, something I would have never imagined about myself. While research used to be just a distant interest, it is slowly taking the forward stage as I get more experience.
Do you have other research experiences as well?
My real research experience started in my third year. I applied to do research projects in the Biochemistry department. It showed me what the research was like and helped me put certain priorities in place.
Are you involved in other activities outside the lab?
Outside of the lab I like to stay active in the gym in order to keep my head clear. I am an avid fan of NBA and try to catch most of the games. I also volunteer weekly in order to give back to the community.
Do you have any advice for students looking for research positions?
Get out there. Find what interests you and don't be afraid to contact the people that can put you in the position to do what you think you would love doing.